Last week the boys and I headed out for a day of mud and adventure. It was freezing (literally) but the sun was shining beautifully and there was no sign of rain. Thursday is the day where we have nothing on and I usually try to plan a little outing. We decided to head to Temple Newsam House and Farm in Leeds with one of their cousins to have a look at the animals, play and enjoy being outdoors.
We arrived there shortly after opening time and upon arrival the boys said that they were hungry, so the three of us sat and ate all of our snacks – pre 10:30 am. Sometimes these things just happen!
We have never been to the farm at Temple Newsam before, but we ended up staying until just shy of half past 3. Win declared that it had been: "The funnest day ever!"…which I think was mostly due to playing with his cousin, hot chocolate, a pig shaped biscuit, tractors and his puddle suit that made him go extra fast on the slides.
When I was asked by Trespass to choose an item from their website I knew I wanted to choose a pair of hiking boots – for days exactly like this. They are so much warmer and more practical than wellies, and I loved the sound of the black leather ones with sheepskin lining that I went for. Before I had children I was definitely not the most practical dresser, but as I've become older (and dare I say wiser) – practicality has definitely had more of a sway.
I couldn't be happier with the newest addition to my shoe cabinet – they are warm, easy to put on (even for a pregnant lady), comfortable and brilliant for keeping the mud at bay.
I'm going to be wearing them in steadily, so that when the opportunity for a proper hike arises – I will be more than ready for it!
E xx
A huge thanks to the lovely people at Trespass for sending me such a fantastic pair of hiking boots free of charge. All thoughts and feelings are my own.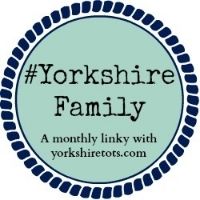 Happy Linking!